HOW TO CHOOSE DISHES FOR YOUR SUMMER MENU AND 5 RECIPES
Summer is a time for fun in the sun, vacations, and of course, delicious food! If you are looking to add some new dishes to your summer menu, we have some tips for you. Here are a few things to keep in mind when choosing summer menu items:
1. SEASONAL PRODUCE
One of the best things about summer is all of the fresh, seasonal produce that is available. Make sure to incorporate some of these items into your menu.
2. GRILLING
Summer is also a great time to break out the grill and cook up some delicious food. There are endless possibilities when it comes to grilling, so make sure to try out some new recipes.
3. KEEP IT LIGHT
During the summer, people tend to want lighter, more refreshing dishes. So make sure to include some lighter items on your menu.
4. GET CREATIVE
Summer is the perfect time to be creative with your food. Try out some new flavour combinations or experiment with new cooking techniques.
RECIPES
HALLOUMI, CHICORY AND POMEGRANATE SALAD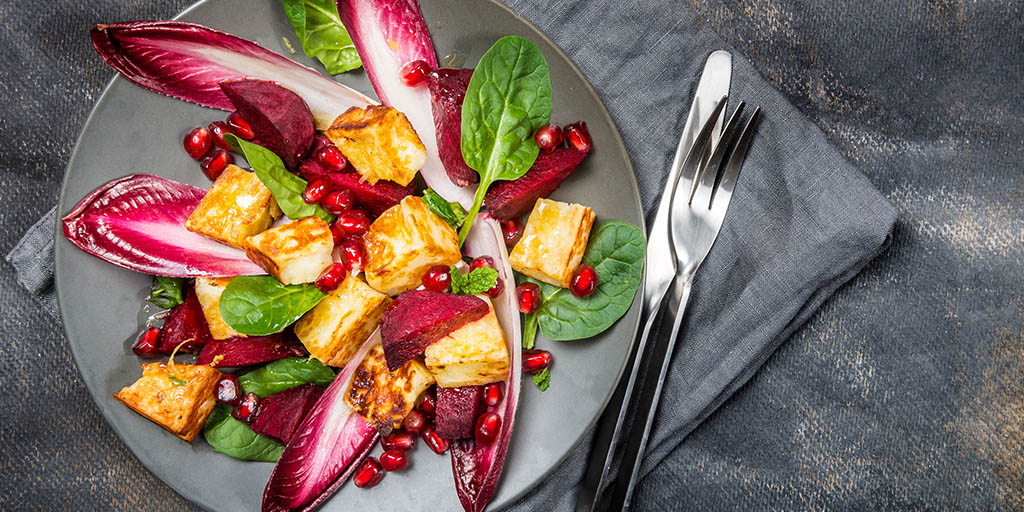 INGREDIENTS: SERVES 2
100g pomegranate seeds
250g halloumi, cut into 1cm slices
2 heads each of red and white chicory
50g walnuts, lightly toasted and roughly chopped (optional)
2 garlic cloves, peeled and crushed
3 tbsp red-wine vinegar
1 tbsp pomegranate molasses
4 tbsp olive oil, plus extra to finish
1½ tsp caster sugar
Salt and black pepper
20g fresh coriander
METHOD:
Start by making the dressing: in a small bowl, mix together the pomegranate seeds, garlic, vinegar, pomegranate molasses, half the olive oil, half the sugar, salt and pepper.
Pick a few coriander leaves and set them aside to use as a garnish later, then finely chop the remaining leaves and stems, and stir into the dressing.
Taste for seasoning, and adjust as necessary.
Heat the remaining oil in a large frying pan and fry the halloumi slices for a minute on each side, until they're a nice golden-brown colour. Remove from the pan and keep warm.
Depending how crunchy you want your salad, you can either fry your chicory (cut into quarters and fry with some oil, and season) or use them raw. They're crunchier but are quite bitter, though depending what you serve with it, it really works!
Slice your halloumi and place in a pan, add the remaining sugar and season.
Arrange the warm halloumi and chicory on a serving plate and spoon over the dressing, top with shredded coriander leaves, and the walnuts.
AVOCADO, MANGO, AND TUNA TARTARE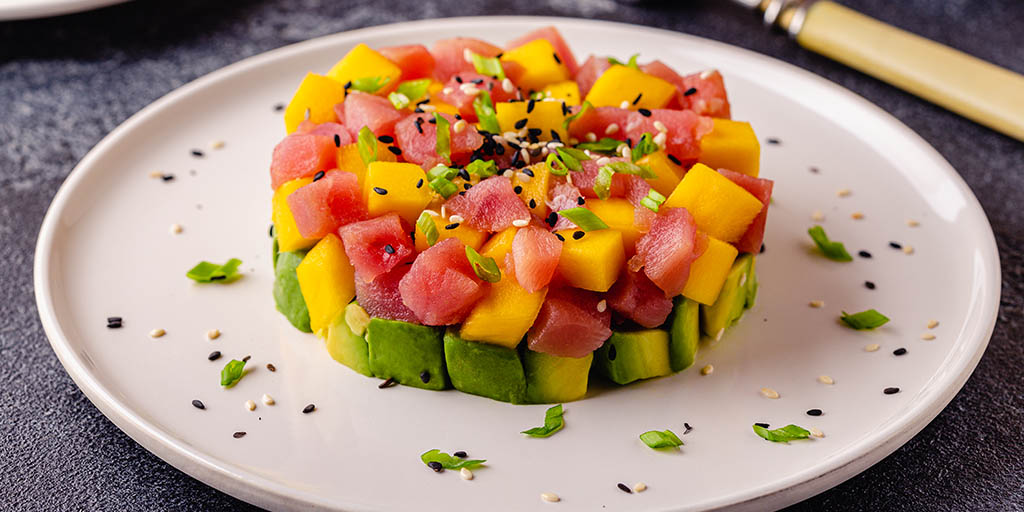 INGREDIENTS: SERVES 2-4 (DEPENDING ON SIZE)
½ pound of fresh sushi-grade tuna, diced in small cubes
1 ripe avocado, diced in small cubes
½ ripe mango, diced in small cubes
Finely sliced spring onions
Black sesame seeds
1 lime
DRESSING:
1 ½ tsp wasabi powder / fresh wasabi (add a little chilli if you don't have this)
½ tbs hot water
1 ½ tbsp honey
2 tbsp light soy sauce
1 tbsp rice wine vinegar
1 tbsp White Wine Vinegar
1 tsp mustard powder
A pinch of freshly cracked pepper
METHOD:
Whisk together the wasabi and water, then add the remaining dressing ingredients and set aside – taste to check balance.
Toss the avocado with ½ squeeze of lime and season with salt and pepper
Coat your chopped tuna in the dressing, enough to coat it but not over power it.
Place a deep serving ring in the centre of a dish and layer the avocado, mango, then tuna on top.
Press down well then remove the serving ring.
Top with sesame seeds and spring onion – you could top it instead with crunchy fried onion. If you wish, drizzle a little extra dressing on the plate before service.
ASPARAGUS, BASIL AND PECORINO TART
INGREDIENTS: SERVES 6-8
350g asparagus
40g cheddar cheese, finely grated
1 tbsp freshly grated Pecorino or Parmesan
2 large eggs, beaten
284 ml single cream
Fresh basil
Salt and pepper

FOR THE PASTRY: SERVES 6-8
25g butter
25g lard
110g plain flour
25g Cheddar cheese, finely grated
A pinch of salt
METHOD:
Preheat the oven to 180 degrees and lightly grease a 71/2 inch flan tin with fluted edges – a removable base is recommended.
First, make the pastry by rubbing the butter and lard lightly into the flour, then add the cheese and salt, plus enough cold water to make a smooth dough – about a tbs.
Place the dough in a plastic food bag or wrap in cling film and leave to rest in the fridge for 20 minutes.
When ready, remove from the fridge and roll it out and line the tin with it, pressing it firmly into the tin.
Prick the base all over with a fork and pre-bake in the oven for 20 minutes.
Remove and paint the inside of it with a little of the beaten egg (from the filling ingredients), then place back in the oven and let it cook in the oven for a further 5 minutes. Remove and set aside.
Meanwhile, prepare the asparagus.
Take each stalk in both hands and bend and snap off the woody end, then arrange the spears in a steamer or steam over simmering water for 4-5 minutes (just to half-cook them).
Chop the spears into 4 cm lengths and arrange them over the base of the pre-baked pastry case.
Next, beat the eggs together with the cream and grated Cheddar cheese and season with salt and pepper, then pour this mixture over the asparagus. Finally, sprinkle the Pecorino or Parmesan over the top, as well as a few basil leaves.
Place the tart on the baking sheet in the oven and cook for 30-40 minutes – until the centre feels firm and the filling is golden brown and puffy.
Serve with some fresh basil leaves on top and a crunchy salad.
ROASTED AUBERGINE, BULGER & MINT SALAD
INGREDIENTS: SERVES 4
4 aubergines, cut into small chunks
1-2 tbsp oil
1 tsp cumin seeds
Handful of fresh mint
200 quick cooking bulgur wheat
2 tbsp toasted pine nuts
Dressing:
100g greek yoghurt
1 garlic clove, minded
2 tbsp tahini
1 tbsp fresh lemon juice
Pinch of sea salt and black pepper
1tbsp olive oil
Optional: Pickled red onion
Add a few tbsp of apple cider vinegar or white wine vinegar to 1 finely sliced red onion, and leave to pickle for 30+ minutes – it will keep in the fridge for days.
METHOD:
Preheat the oven to 200ºC.
If making the red onion pickle, do so now.
Toss your diced aubergine with cumin seeds, oil, and salt and pepper, then place on a baking tray and roast for 30 minutes.
Meanwhile, cook your bulgar wheat in lightly salted water – following the instructions on the packet.
While they both cook, make your tahini dressing by combining the ingredients together. Set aside.
When the bulgar wheat and aubergine are ready combine together in a bowl, with a drizzle of olive oil, and freshly chopped mint.
Drizzle over your dressing and top with toasted pine nuts, and your pickled onions.
ETON MESS ROULADE
INGREDIENTS: SERVES 8-10
4 large free-range eggs, separated
75g caster sugar, plus extra to dust
75g self-raising flour
75g whole blanched almonds or unsalted pistachios, toasted in a hot dry pan and whizzed in a small food processor – or use pre-ground nuts
1tsp vanilla extract
The filling:
400g ripe strawberries, half chopped
1-2 tbsp icing sugar (optional)
300ml double cream
4 meringue nests, crumbled
METHOD:
Heat the oven to 200ºC.
Using an electric mixer, whisk the egg yolks and caster sugar in a bowl for 5-6 minutes until thick and creamy.
Gently fold in the flour, toasted nuts and vanilla.
In a separate bowl, whisk the egg whites to soft peaks.
Add a spoonful of the whites to the cake batter and fold in briskly using a large spoon to loosen the mixture; fold in the rest in gentle figure-of-eight movements.
Pour the mixture into a lined 30-35cm swiss roll tin, level the top, then bake for 12-15 minutes until the sponge is risen, golden and springy to the touch.
Tke a sheet of baking paper that's just larger than the tin, and dust with caster sugar.
When the sponge is baked, use oven gloves to turn it out onto the paper.
Roll up the sponge from the short end like a swiss roll while still warm, rolling the paper too so it stays between the sponge layers, then leave to cool.
For the filling, whizz the chopped strawberries until smooth – add a touch of icing sugar if they're a bit sharp.
Whip the cream to soft peaks in a bowl using a balloon whisk or electric mixer – be careful not to over-whip as it will thicken when you fold in the strawberries/sauce/meringue.
Slice most of the remaining strawberries, keeping a few halves to garnish, then gently swirl the slices into the cream with the strawberry sauce and most of the crumbled meringue.
Carefully unroll the cooled sponge, then spread with the eton mess mixture and roll up like a swiss roll again (without the baking paper in ).
Top with extra meringue pieces and serve with the leftover strawberries.