Winter's certainly in the air and what better way to warm up your customers than with the nation's favourite dish… a curry! In fact, we love the fragrant meal so much there's a whole week dedicated to curry, with this year's running from the 4th to the 10th of October.
To celebrate National Curry Week, we've put together five recipes to inspire your winter menu. From a classic Chicken Tikka to a hearty Lentil Dahl, whether you're celebrating National Curry Week or not, these dishes are sure to tingle your customer's taste buds.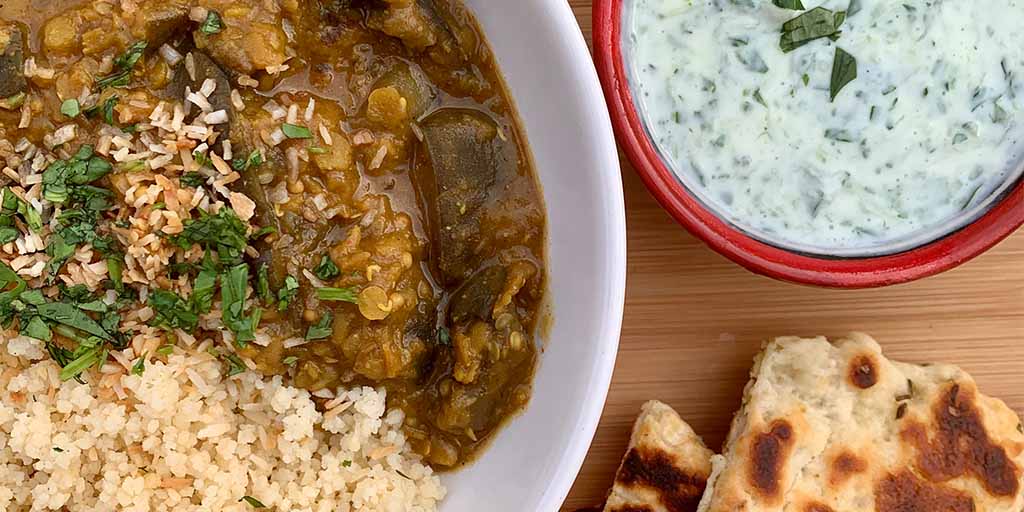 Aubergine and Lentil Curry
Simple yet full of flavour and 100% vegan, there's nothing stopping this dish being the hero of your curry night: fragrant rice, sticky mango chutney, fresh coriander yoghurt and homemade flatbreads to mop it all up.
Serves 4
Ingredients:
2 heaped tsp of mild curry powder
1 tsp ground turmeric
1 tsp ground cumin
1 tsp ground coriander
1 tsp mild chilli powder (adapt to your preference)
2 tsp of mustard seeds
5 cardamom pods
2 cloves of garlic
Thumb sized piece of fresh ginger
1.5 tbsp of tomato puree
1 vegetable stock cube
2 tbsp olive oil
2 large aubergines (roughly 400g)
100g red split lentils
2 tbsp Alpro soya coconut yoghurt or any full fat yoghurt/creme fresh (if it's low fat it will split)
Fresh coriander
2 large pieces of stem ginger in syrup
Salt and pepper to season
To serve:
Toasted coconut flakes
Mango chutney
Coconut yoghurt
Method:
Dice the aubergine into quarter, 1.5cm chunks, then fry in a pan until golden, with oil and a pinch of salt
While frying, measure out all the dry spices and finely grate your ginger and garlic
Once the aubergine has slightly browned, decant into a bowl and set aside
In a large wok style frying pan, fry off the dry spices for 1-2 minutes, until they start to release their flavour
Now add in the garlic, ginger, tomato paste and a tablespoon of oil and sweat for 1 minute
Return the aubergine to the pan and coat fully in the spices
Now pour in 1ltr of vegetable stock, followed by the lentils
Leave to simmer on a low heat for 30 minutes, until the lentils and aubergine are soft and the liquid has reduced. If you have a lid, I'd put one on for 20 minutes of the cooking, so it doesn't reduce too fast – keep an eye on this, stirring occasionally and adding more water if needed
While this cooks, think about what you'd like to serve it with, I have mine with simple couscous and flatbreads
Now is also a good time to prep your chopped coriander and toast your coconut ahead of serving
After 30 minutes, add in your chopped stem ginger, as well as a good tbsp of the syrup – more or less depending how sweet you like it and cook through for a further 5 minutes
Just before serving, add in two tablespoons of yoghurt and swirl through – I like Alpro coconut the best
Once ready, serve in bowls with your couscous and top with the toasted coconut, mango chutney, fresh coriander and an extra spoonful of coconut yoghurt
Chicken Katsu Curry (+ crunchy slaw)
There are a few variations of the popular Katsu sauce but this one is simple, tasty, and surprisingly healthy. Making this dish from scratch means you don't just have to use chicken either, you could use tofu or even vegetables like aubergine or courgette.
Serves 4
Ingredients:
The Sauce:
2 cloves of garlic
1 onion, chopped
1 thumb sized piece of garlic (2.5cm)
1 medium carrot, grated
1 medium apple, grated
2 tsp soy sauce
1 tbsp miso paste
300ml veg stock
1 tbsp mild curry powder
1 tsp turmeric
1 tsp honey
For Chicken:
8 chicken mini fillets
2 x 280g blocks of tofu
100g panko breadcrumbs
5 tbsp cornflour + 5 tbsp water
2 tbsp soy sauce
For Tofu:
2 x 280g blocks of tofu
100g panko breadcrumbs
5 tbsp cornflour + 5 tbsp water
2 tbsp soy sauce
The Slaw:
1 medium sized kohlrabi (similar to a radish but more delicate in flavour, though you can use white cabbage if you can't get hold of this)
1 medium sized carrot
1 medium sized apple
1 tbsp toasted sesame seeds
Slaw Dressing:
1 tbsp sesame oil
1/2 the juice of a lime
1 tsp honey
1 tbsp soy sauce
1 tsp rice wine vinegar
To serve:
Sticky rice – coconut or jasmin
Method:
Prepare your chicken if it's not already in fillets, or if using tofu, slice into blocks into 8 even pieces, wrap in kitchen roll or a tea towel and set under a heavy weight for 15 minutes, to dry out
Meanwhile, prepare your sauce: Dice up your onion, garlic and ginger, then add to a pan with a little oil, simmer on a low heat
Peal you carrot and apple and then grate them both finely and add to the pan
Sweat for a few minutes before adding in your curry powder, soy sauce, miso paste and turmeric
Combine well and now add in your stock and honey
Allow the sauce to bubble away for 10 minutes, before blending to a smooth consistency
Once this is done, return to the pan, season and keep warm
To make the breaded chicken (or tofu), add the fillets to a bowl with 2 tbsp of soy sauce. Allow to marinate while you complete the next steps
In a bowl, combine 5 tbsp water and 5 tbsp cornflour, and in another, place the panko breadcrumbs, with a little salt and pepper
One at a time, take each slice of chicken (or tofu), dip it into the corn flour, then the breadcrumbs – you may need to do this twice for each one, to get a good thick coating. If you run out of cornflour or it becomes too sticky, make some more. If you are NOT vegan, feel free to use the classic egg and flour
Once coated, add to an oiled and lined baking tray
Add to a preheated oven for 20-25 minutes, until golden brown, turning halfway through
While the chicken cooks, prepare your rice and make your slaw. If you have a mandoline slicer, you can use this, otherwise peel the carrot and kohlrabi (you can leave the apple with the skin on) and then slice them to fine match stick length – set aside
In a pan, dry toast your sesame seeds then set aside to cool, before adding to the slaw
Combine the slaw dressing ingredients and then drizzle a little of this over your slaw – the rest can be placed on the table for people to add to their liking
With all the components ready to go, build your plate and enjoy!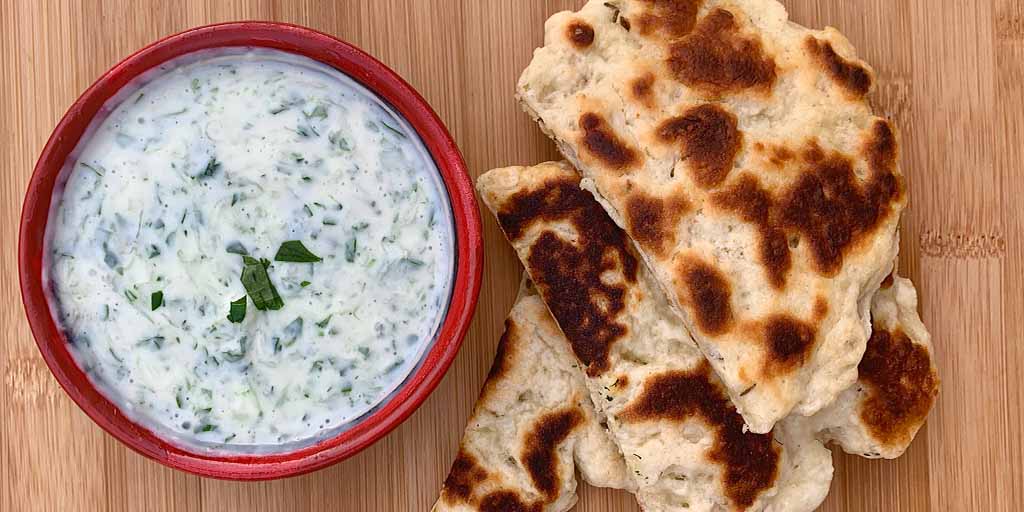 Lentil Dahl with Roasted Cauliflower
A Dahl is a simple Indian dish, created with pulses like split lentils or chickpeas, and delicately spiced. It's warming, filling and takes very little time to prepare. Traditionally it's served with a Roti but rice, flatbreads, or naan works just as well. This one's also vegan!
Serves 4
Ingredients:
3 garlic cloves
6 cm piece of ginger
4 plum tomatoes
1 tsp oil
1 tsp turmeric
2 tsp coriander
2 tsp mild curry powder
500g yellow split lentils
1 vegetable stock cube
4 tbsp vegan coconut yoghurt / coconut cream (or alternative) + extra for serving
2 tbsp grated coconut / coconut chips (toasted)
Bunch of fresh coriander
Mango chutney
For the cauliflower:
1 tbsp oil
1 large cauliflower head
1 tsp cumin seeds
1/2 tsp turmeric
1 tsp mild curry powder
Method:
Preheat the oven to 180 degrees and prepare your cauliflower by breaking off the florets
Coat the florets in the oil, turmeric, curry powder and cumin seeds and then place in the oven to roast for roughly 20-25 minutes
To make the Dahl, begin by finely chopping your garlic and ginger and then cook on a low heat in a pan, with oil
Next, chop your tomatoes into roughly 1cm x 1cm pieces and then add to the pan, with the garlic and ginger
Cook the tomatoes down for a couple of minutes and then add in the spices, followed by the lentils and vegetable stock (you'll need about 2 pints of boiling water to start)
Combine and leave to simmer for about 20 minutes, stirring occasionally and adding more water if needed
While it cooks, toast your coconut in a pan and chop your coriander, then set aside for serving (keep an eye on your cauliflower)
When the lentils are soft and cooked through, stir through 4 tbsp of vegan coconut yoghurt – even if you're not vegan or dairy free, this adds a lovely creaminess to the dish, but you could add in a little coconut cream as an alternative
Serve the Dahl with an extra swirl of yoghurt, then top with the roasted cauliflower and sprinkle over some fresh coriander and the toasted coconut
Mughlai Chicken
Looking to switch up the traditional Korma? This curry uses ground almonds as the base rather than coconut, and greek yoghurt for a slightly lighter sauce. Whenever making curry with chicken, I'd always recommend using thigh meat as it's so much juicer. To make this vegan, use an alternative to the yoghurt and cream, and add in aubergine – chickpeas work well too.
Serves 4
Ingredients:
2½ centimetres piece of fresh ginger (peeled)
2 cloves garlic (peeled)
2 teaspoons ground cumin
2 teaspoon ground coriander
½ teaspoon dried chilli
2 tablespoons ground almonds
80ml millilitres water
5 cardamom pods (bruised)
1 cinnamon stick
4 bay leaves
4 cloves
4 tablespoons vegetable oil
1½ kilograms boneless, skinless chicken thighs
1 onions
125 millilitres Greek yoghurt
125 millilitres chicken stock
60 millilitres double cream
50 grams golden sultanas
2 teaspoon garam masala
½ tablespoon caster sugar
Pinch of salt and pepper
50 grams flaked almonds (toasted)
Method:
Blend together the ginger, garlic, cumin, coriander and chilli in a food processor, until it forms a paste. Add the ground almonds and water, then blend again, and set aside. If you have one, you can do this with a pestle and mortar
Heat the oil in a large pan and add the chicken pieces (in batches), and cook them just long enough to seal on both sides, then remove and set aside
Into the same pan, add the cardamom pods, cinnamon stick, bay leaves and cloves and lightly fry to release the fragrances
Add in the onion, finely chopped, and cook until softened and lightly browned.
Pour in the blended paste, and cook everything until it begins to colour. Add the yogurt, a little at a time, stirring it in to make a sauce; then stir in the stock, cream and sultanas
Put the chicken back into the pan, along with any juices that have collected, and sprinkle over the garam masala, sugar and salt and pepper
Cover and cook on a gentle heat for 20-30 minutes, testing to make sure the chicken meat is cooked through
While it cooks, toast the almonds and set aside
Serve with rice and top with the almonds
Chicken Tikka Masala
As the nation's favourite dish, and the most commonly ordered meal at an Indian restaurant, it's only right to include a classic Chicken Tikka on your curry night menu. There are a lot of recipes out there, and a lot of pre-made sauces, but there's nothing quite like making your own.
Serves 4
Ingredients:

For the Chicken:
600g chicken thighs, cut into chunks
3 tbsp olive oil
Thumb sized piece of grated ginger
2 cloves of garlic
1 tsp ground cumin
1tsp paprika
1/2 tsp chilli powder / a little fresh chilli
5 tbsp double cream
1/s tsp garam masala
1 tsp salt
3 tbsp lemon juice
For the Masala Sauce:
4 tbsp olive oil
1 onion
2 tsp ground coriander
1/2 tsp turmeric
1/2 tsp chilli powder (more if you want it spicy)
2 tsp paprika
4 tbsp yoghurt
2 medium tomatoes, peeled and chopped finely
350ml chicken stock
1/2 tsp garam masala
Salt and pepper to taste
Freshly chopped coriander to serve and rice.
Method:
Marinate the chicken tikka: Place the chunks of chicken in a bowl and rub in the salt and lemon juice, followed by the rest of the seasonings, and cream, and leave to marinate for six to eight hours – overnight won't hurt
To make the Masala sauce: place four tablespoons of oil into a large, lidded pan, on a medium-high heat
Add the chopped onions and lightly fry until brown
Add the ginger and garlic and cook for a minute
Now add the ground coriander, turmeric, chilli powder and paprika
Combine well then add half of the yoghurt, mix again, and add the remaining yoghurt, a little at a time
Now put in the tomatoes, frying them for a couple of minutes until cooked down.
Add the stock and salt, garam masala, and bring to a simmer
Cover, reduce the heat to low, and simmer gently for 15–20 minutes
During this time, the sauce should thicken
To cook the chicken, you could add the chunks to the sauce now BUT, for a real depth of smokey flavour, cook the chicken on a grill, making sure the sides blacken a little, then add to the sauce just before serving
Top with fresh coriander
Why not get creative and make some dips, chutneys and pickles to go alongside the curries, or yoghurt flatbreads, naans and rotis.