Not everyone has time to dine in and enjoy the full restaurant experience. Some people are time-poor, looking for something they can grab and eat on the move.
Usually, the easiest thing to eat while on the go is a sandwich or say, a wrap. Wraps are especially great as you can encase all the fillings inside a soft tortilla and fold it up (it may take a few goes to perfect this!).
Gone are the days of basic soggy wraps, drenched in Caesar dressing or dripping with mayonnaise. Now's your chance to get creative. With so many exciting ingredients at our fingertips, cuisines to choose from, and even types of wrap (corn, sweet potato, beetroot) there are plenty of ways we can jazz up the traditional wrap and make it the reason people head to your eatery when they need a quick and tasty bite.
A few ways you can go the extra mile is by asking if they want the wrap toasted or not. And make sure you check for any dietary requirements too – maybe you could make them fresh to order if it was required (and you had time).
Go Mexican:
Marinated beef strips, red peppers, crunchy lettuce, red onion, charred paprika sweet corn, guacamole, salsa, jalapeños and cheddar.
Why don't you offer a little bag of plain nachos too? (A recyclable bag of course…)
Keep it fresh:
Salmon, cream cheese with a little lemon and black pepper – add in some spinach for a pop of green.
Vegan dream:
Roasted cauliflower, (cover it in spices like paprika, cumin, coriander and a little honey and roast for 25 minutes or until golden brown), hummous, fresh coriander, pickled red onions, rocket and a drizzle of tahini.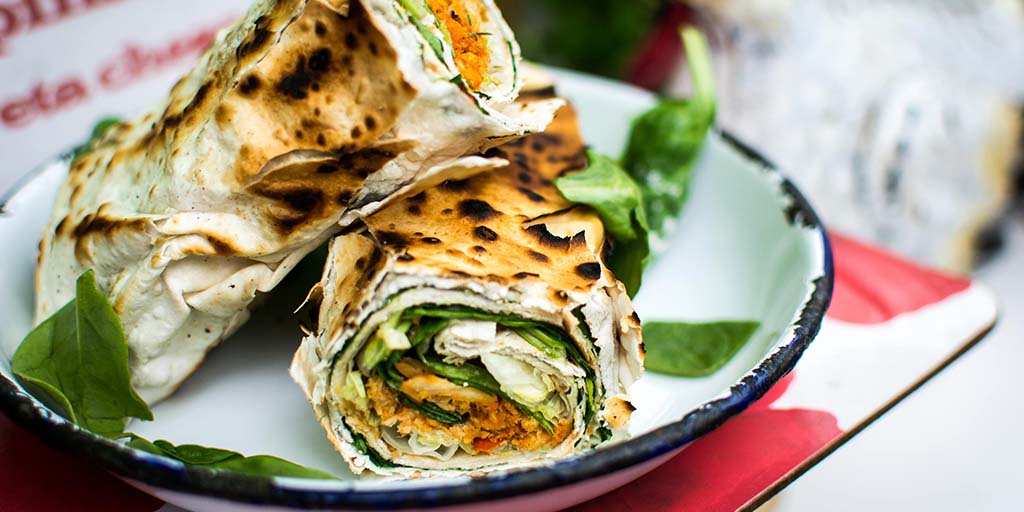 Classic but better:
Chicken, spinach, feta and red pepper hummous.
Falafel:
Crunchy lettuce, tomatoes, red onion, falafels, fresh coriander or parsley, and tzatziki (add some feta if they're not vegan).
Crabtastic:
Crab, avocado, red pepper, spinach and rocket – instead of mayo, keep it light with a drop of lemon or mix some creme fraiche or Greek yoghurt with lemon instead, to form a dressing.
When it comes to wraps, the possibilities are endless. Have some leftover chilli? Add it to a wrap with avocado and cheese. Chicken? Fry it up with red peppers, onions and add to a wrap with fresh avocado and cheddar.
for more inspiration – why not read our article TORTILLAS – AND 6 CREATIVE WAYS TO USE THEM