So unapologetically British, afternoon tea is a ritual that has been enjoyed by many for years. What's not to love about finger sandwiches, scones piled high with jam and clotted cream, and soft, spongy cakes? It's booming again with over 6 million hashtags on Instagram, with people enjoying it at restaurants and at home.
Whether you keep it classic with cucumber and cream cheese sandwiches, fruit scones and Victoria sponge cake or mix it up with flavours from around the world, here's all you need to know about creating the ultimate afternoon tea offering.
Know Your Audience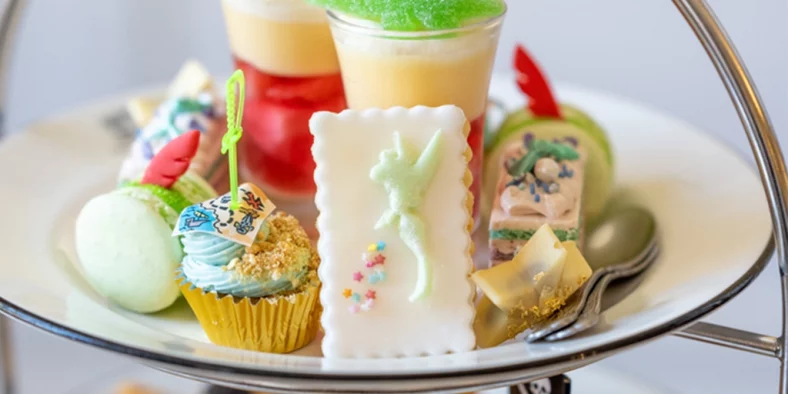 Children
Afternoon tea is no longer an adults-only affair. In fact, venues worldwide are going all out to ensure the little ones feel royally treated too. Themed menus embracing playful language, colour and shapes, take influence from popular children's books and films, from snozzberry jam to teddy bear shaped sandwiches.
Children's chickadee Easter Afternoon Tea with playful chocolate soil and salted caramel sheep cupcakes, Assembly House, Norwich UK. Jungle Book themed afternoon tea with 'roar-ange' chocolate and orange tiger-striped biscuit, and tropical shake with warm doughnuts, Brown's Hotel, London. This is a great idea for schools or hospitality venues with a local family community.

Vegan
With the rise in plant-based eating, venues have had no choice but to diversify and accommodate the growing number of dietary constraints. Credit to pastry chefs, most vegan menus are very similar to the original, using plant-based alternatives like oat, cashew and coconut creams, as well as tofu, jackfruit and squash.
Vegan CBD-infused high tea menu, including smoked carrot sandwich and mini red velvet cupcakes with cashew cream frosting, Farmacy, London. Balloon afternoon tea serving brown rice sushi, chia sweet pudding and beetroot muffins, Jaja, Hong Kong.
Old School Influence
Win over your customers with retro and nostalgic treats. From Battenburg to rhubarb and custard, with delicious twists.

Reimagined custard cream, pink wafer, French fancy and mini roll, The Langham, London. Drumstick macaron, blue raspberry Battenberg, cheesecake liquorice allsorts, The Chesterfield, London.
Keep it Traditional
While innovative flavours and ingredients are fun and exciting, sometimes, classic afternoon tea is all you need, with egg mayo finger sandwiches, scones and small patisseries.
Seasonal changing afternoon tea menu, using produce from the estate where possible, Sandringham Estate, Norfolk. Refined classics such as quails off with piccalilli and duck mousse with blood orange glaze, Fortnum & Mason, London.
Keep it Casual
When you think of afternoon tea, you usually look to high-end restaurants, hotels and spas, but there are many everyday establishments hosting more casual afternoon teas, usually with more of a pub twist with dishes like mac 'n' cheese, fish finger butties and cupcakes.

Burger-inspired afternoon tea where lamb or chickpea burgers accompany sweet burger look-alike treats, Bite Me Burger, Marlborough, UK. Chicken wing afternoon tea with a feast of American favourites such as burgers, seasoned fries, house slaw, and flavoured chicken wings, Wing Bar, London.
What's Your Flavour?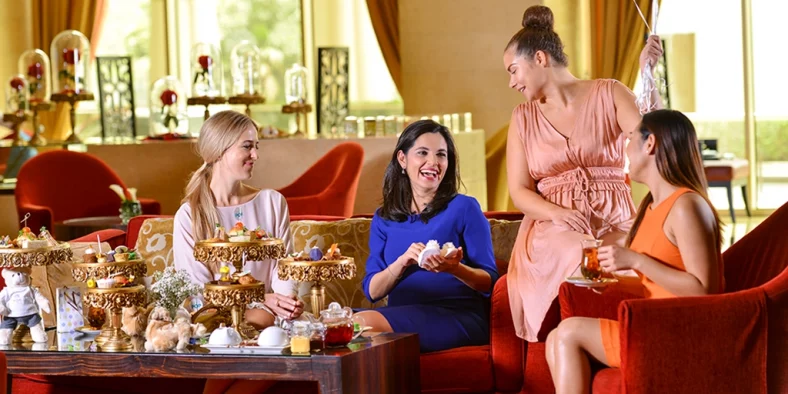 Fancy Botanicals:
Botanicals are having a moment across food and drink. Naturally, as spring blooms, classic florals such as lavender and elderflower start to resurface, but hibiscus, violet, osmanthus and rose are really stealing the limelight. From crafted beverages and teas to sweet and savoury nibbles, nature's bounty isn't going anywhere.
Floral weekend afternoon tea – a botanical-inspired experience complete with floral arrangements: sweet treats on the plate include osmanthus peach puff and violet macaron, Garden at One Ninety, Four Seasons Hotel, Singapore. Hibiscus-cured salmon, prawn salad with elderflower jelly, duck crostini with lavender gel and jasmine-tea infused chicken roulade, Raffles, Dubai.
Cherry Blossom
Cherry blossom, pink fancies and blushing macaroons, there's a glow of pink-themed afternoon teas hitting the scene. Japan is the country to follow for more inspiration on this one.
Sakura strawberry and cherry afternoon tea with Sakura Mont Blanc, Amaou strawberry mousse, strawberry cheesecake and Sakura strawberry latte, Laduree, Japan. Strawberry NY afternoon tea, The Strings Omotesando, Japan.
Sweet or Savoury
Some people find an afternoon just a little too sweet, so chefs have taken it upon themselves to create a 100% savoury afternoon tea, with fancy treats inspired by their sweet counterparts, like Madeleines, macaroons, eclairs and canelés.
Potatoes doughnut with Blue Swimmer crab, green curry, water chestnut and flying fish roe, The Windsor Hotel, Australia. Goats cheese and pickled beetroot Canelé, Lily Vanili at The Lane.
Eastern Influence
If you're sick of cucumber sandwiches, there are plenty of Indian and Japanese-inspired afternoon teas around, infused with wonderful spices and flavours that will transport you to spicier climates.
Treasures of Arabia afternoon tea, including sesame-coated falafel with tahini sauce, pistachio and rose scones with kasha and carob molasses, labneh with cucumber and mint on olive bread, Raffles, Dubai. Salted caramel lassi and spiced pepper paneer puffs, Taj, London.
Truffle Heaven
Truffle is one of those flavours that screams luxury. It's an ingredient that will never get old, jumping out of the menu the minute you open it.
Foie gras cream puff with fresh truffle, Joni at Park Hyatt, Canada. Premium tapas including Siberian sturgeon caviar, 36-month Iberia ham and black truffle cheesecake, G Room, Hong Kong.
Break the Boundaries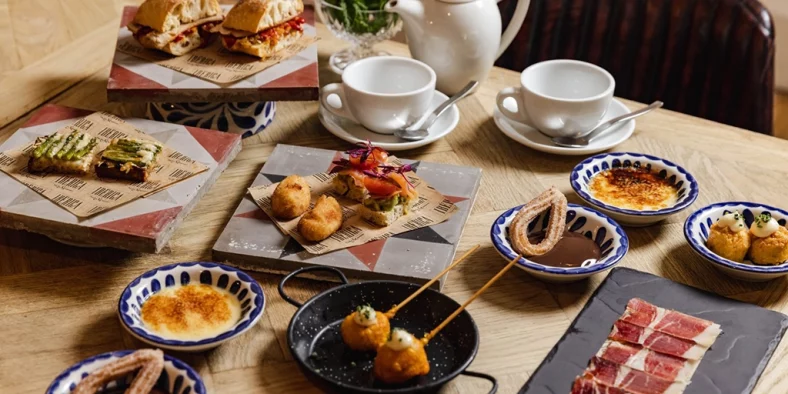 Sandwich 2.0
We've spoken about the trend for deep-filled sandwiches before. And while these aren't quite as gargantuan, they're a bit bigger than finger sandwiches. From traditional smoked salmon and coronation chicken to crumpets, croissants with avocado and more.
Selection of Japanese-inspired sandwiches: crispy rice cake with yuzu avocado and feta caviar, and chicken teriyaki with spring onion, Rosewood Hotels, London. Spanish afternoon tea with brioche smoked salmon and avocado, ciabatta with Cantabrian tuna, confit red pepper and caramelised onions, Iberia Restaurants, London.
Tart it up
Tarts can be both sweet and savoury, light or dense, creamy or rich, which is why chefs love getting innovative with them – they're just so versatile. Alternative grains like spelt and buckwheat jazz up the pastry, and the inside is filled with all types of ingredients – many with a pretty, 'Instagrammable touch'.
Pea and ricotta tart with lemon thyme and parmesan, Como the Treasury, Perth, Australia. Rainbow trout ceviche, dill emulsion and lemon gel, and raw beef, mustard, pickled onion and shiitake tarts, Restaurant John, Finland.
Too Good To Eat
Food has become edible artistry, with incredibly talented chefs making truly wonderful themed afternoon teas with hyper-realistic treats. So accurate, they're almost too good to eat…
Chinese New Year themed afternoon tea with black sesame teapot with yuzu cheesecake, mandarin orange, pandan, mango and coconut firecracker and chocolate purse, Pan Pacific, London. The Nature Lab afternoon tea, with a variety of colourful savoury items and deserts, centred around fruit and vegetables inspired by immunity, The St. Regis, Thailand.
Sweet Escape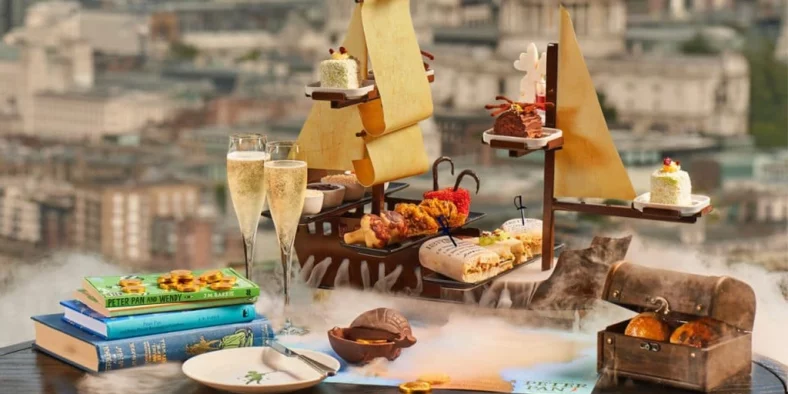 An afternoon tea is a treat, an escape, a chance to switch off and focus on the wonders in front of you. Some venues have taken this to the next level, creating a full experience for their customers to escape to.
Binge-worthy Afternoon Tea
From literary classics to the latest binge-worthy Netflix and famous films, themed afternoon teas appeal to grown-ups and children alike.
Peter Pan themed with snacks named after characters from the book, and scones hidden in a treasure chest, Aqua Shard, London. A not-as-it-seems feast inspired by Charlie and the Chocolate Factory, One Aldwych, London.
Luxury Collab
Some high-end hotels have partnered with high-profile fashion and Champagne brands to create a premium afternoon tea experience. From Moschino to Milan Fashion Week.
Pret-a- Portea, afternoon tea inspired by Milan Fashion Week, The Berkeley, London. Collaboration with Godiva chocolate including chocolates, chocolate dip and free-flowing Godiva soft-serve ice cream, Green at Hotel Icon, Bangkok.
Immersive Experiences
Eccentric, quirky, nostalgic and mysterious experiences take themed afternoon teas to the next level. Whether it's a Mad Hatter's tea party with a myriad of potions of a multi-sensory Sherlock mystery, these afternoon teas are an experience you won't forget.
Wizard-themed immersive afternoon tea experience at The Portion Room, Cutter & Squid, London. Alice and Wonderland-themed pop-up experience, which involved creating cocktails, painting, and solving riddles and puddles, The Wonderland Bar, Australia.
How to Serve Your Afternoon Tea
While the Kirsch afternoon tea stand is still a hallmark of the traditional afternoon tea, restaurants are getting creative, designing all types of stands from doll's houses to Ferris wheels and fancy boxes.
Taking a Stand
Creating a stand of your own certainly does add a real theatrical element, and makes it stand out. How about a spinning wheel delivering your scones or a large metal flower with treats on each petal.
Spinning Ferris wheel afternoon tea, Sofitel Ambassador Seoul Hotel, Korea. A storybook-themed concept restaurant where everything is monochrome and in 2D illustration, Forever Rose Cafe, Dubai.
Pandora's Box
A simple box can be incredibly effective. From boxes with draws that each tell a delicious story when you open it, to stackable levels all reveal an exciting new bite under each one.
The signature afternoon tea is served in a layered handmade bamboo bento box, Rihga Royal Hotel, Japan. A French twist on an afternoon tea served in a locked jewellery box, Bijou Patisserie at Sofitel The Obelisk, Dubai.
Take Me Away
During Lockdown, afternoon tea delivery boomed but even as restrictions reduced, the desire for this delicious afternoon treat stayed strong. This has led to a number of establishments creating takeaway afternoon teas, so people can enjoy them in the comfort of their own homes.
Snow White themed takeaway afternoon tea comes complete with mini sandwich stack, scone with jam and cream, and sweet treats, Once Upon a Tearoom, Cheltenham, UK. Takeaway brunch high tea box, with filled croissants, bagels, scones and pastries, Mary Eats Cake, Melbourne.
Wash it Down With Some Tea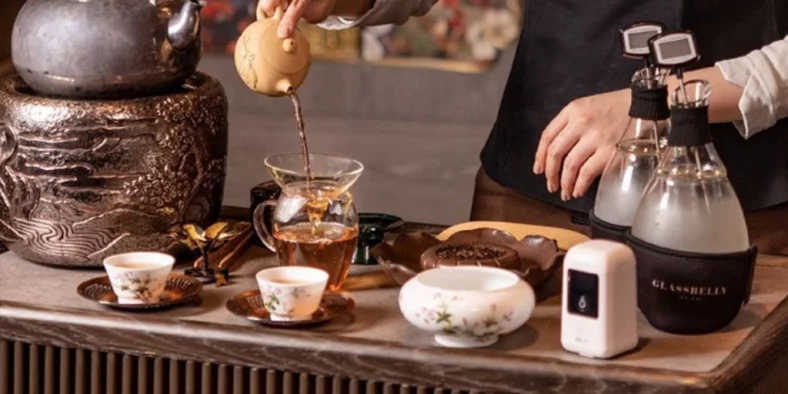 Tea is one of the most important parts of the afternoon tea experience – even if you serve it with a glass of sparkling wine or cocktail too, the tea options can't be overlooked. From huge menus with an array of different teas from all over the world to a more refined list with some British classics.
Tea Tasting
It's the drink that takes centre stage here – not the food. If you have a wide range of teas, why not create a tea tasting, served with a few petit fours. Serve them iced in summer and warm in the winter!
Find a dining tea experience, starting with iced tea paired with cheese, lychee and friend shrimp snacks, Glassbelly Lab, China. Cold brew tea flights served with classic afternoon tea fare, Eteaket, Edinburgh, UK.
Tipsy Tea
There's something very sophisticated about having a glass of bubbles or a tea-inspired cocktail with an afternoon tea. But while many establishments just offer a complimentary glass, others are going bottomless!
Botanical-inspired teapot cocktails including A Tea-Sing Treat – an Earl Grey infused tequila cocktail with hibiscus and green tea liqueur, My Foggs, London. Tipple Tea – four crafted cocktails accompanied by a tipple-infused menu with items such as crab roll with Bloody Mary sauce, foie gras with calvados jelly and mini chops buns with Scotch cream, Rockell, London.
Whether you already serve afternoon tea or not, hopefully, this article has given you the inspiration to mix it up, get creative and create an offer your guests can't deny. Even if it's just on special occasions, like Mother's Day or Easter, you can't go wrong with a traditional afternoon tea!