The Stir-Up Sunday tradition dates back to the Victorian era, when families would meet to stir the Christmas pudding five weeks before December 25, read 21st November. In fact, the opening words of the Book of Common Prayer are: 'Stir up, we beseech thee, O Lord, the wills of thy faithful people'.
The essence of a traditional Christmas Pudding
The prayer is read on the last Sunday before Advent – the day when people of all ages would mix up to 13 delicious ingredients into a cake or pudding. Said to represent Jesus and his disciples, the ingredients would be traditionally stirred by each member of the family from East to West – while everyone makes a wish.
Celebrating and remembering the Wise Men that visited Jesus in the Nativity Story, the practice included a garnish of holly, too. What else?! This represented the crown of thorns – but the Good Housekeeping website warns: 'the holly berry is very toxic, so instead adorn your Christmas pud with fake foliage!' Wise words, indeed.
So, what else can you add to your Christmas cake or pud to mark this age-old tradition? Everything from coins to charms, says Good Housekeeping, who state that the pud brought good luck if you found either in your portion on Christmas Day itself.
If you don't fancy a dash to the dentist with a cracked tooth, though, we recommend not adding a silver coin (for wealth), a wishbone (for luck), a thimble (for thrift), a ring (for marriage) or an anchor (for safe harbour). While home cooks may have added one of these five charms to their cakes or puddings in Victorian times, we'd say a few premium ingredients are gift enough for your family – or your diners.
The Origin of the Christmas Pudding
There really is nothing quite like a slice of Christmas pudding (or as it's more traditionally known: plum pudding or figgy pudding) over the festive period, but from where does the dessert originate?
It was believed to be mentioned first in 1858, in Anthony Trollope's 'Doctor Thorne'. That said, its beginnings apparently go back hundreds of years, with a Christmas pudding called Frumenty popular in the Middle Ages. The latter is thought to be a savoury – but much older – version of the Christmas pud we all know today.
Pudding Uproar
With the recipe changing somewhat over the years, it now contains anything from raisins to sultanas, cherries and apricots, with beers or spirits increasing its shelf life.
According to Country Living, the humble festive pudding has caused uproar since its creation. Yes, really. Alongside festive merriment including carols, Cromwell is said to have banned the eating of Christmas pudding in a bid to tackle festive gluttony.
Thankfully, the adoration for the Christmas pud is very much alive in 2019 – and many keen cooks say that it's never too early to start preparing yours, as the alcohol and the fruit need time to infuse to ensure the very best flavour.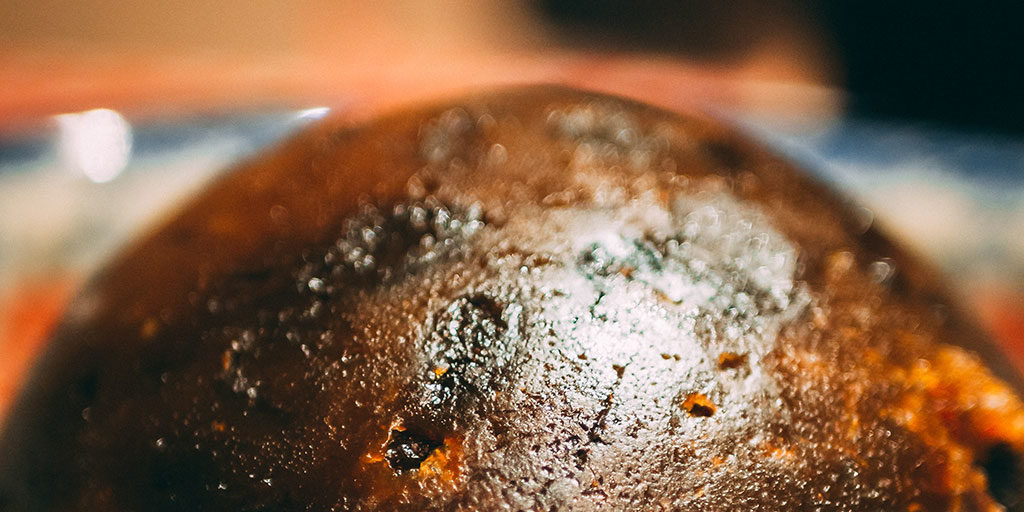 Sweet Sherry
On November 8, London home baker, Pam, wrote on Twitter: 'Started my Christmas pudding. Is it too early? Never made one before…this is a Nigella recipe. Steeping the fruit overnight in some sweet sherry.'
Reading that tweet made us want to slip on our aprons and make our very own Christmas pudding.
Meanwhile, Twitter user Dan wrote: 'It's Saturday night, so I am making Christmas pudding from scratch for the first time ever, using a recipe from this re-bound Good Housekeeping book [pictured on Twitter] from 1981, because my son wants to see something set on fire on Christmas day.'
After all, is there a better spectacle than a fiery pud after Christmas dinner? We think not – and we reckon your diners will agree.
Will you be creating a Christmas pudding or cake to be proud of this year, too? Why not try our recipe below and you'll have your dessert ready to go in time for the festive season? Go on; give it a go on Stir-Up Sunday. Oh, and as the old Christmas carol goes: 'We won't go until we get some; we won't go until we get some; we won't go until we get some, so bring some out here.'